Ski Academy - Test 3 - Leg Steering Range
Started by Admin
in Ski Technique

17-Nov-2016

- 2 Replies
Login
To Create or Answer a Topic
Latest images on this Topic...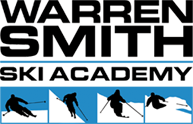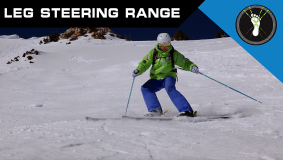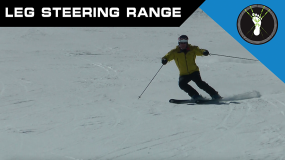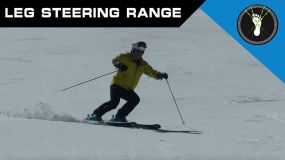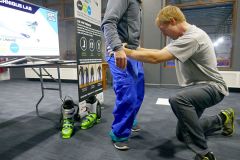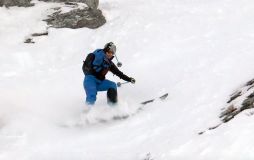 TEST 3: LEG STEERING RANGE
The ability to steer or rotate inwardly the outside leg of a turn (right leg when steering left and left leg when steering to the right) is one skiing's fundamental movement ranges needed. This is simply the ball rotating inside the socket joint of the hip. Unfortunately, this range is restricted with many skiers and not being able to inwardly rotate to approximately 70 degrees across the fall line directly affects your skiing technique. This is most apparent in the sports short game, i.e. shorter radius turns, moguls, steeps, couloirs, tight spaces. They all highlight the major problems that occur when the legs only steer to a limited degree independent of the hips. The consequence of this limited range in steering is that the whole pelvic girdle will rotate (also guarantees upper body, shoulders and arm rotation), which will move towards flattening the edge angle of the ski's and putting some of the body weight on the inside ski. This will ultimately end with an over rotation from the whole upper body and a loss of grip against the outside ski. In these short game situations this can seriously disrupt the flow of the run and depending upon the surroundings may be dangerous to the skier.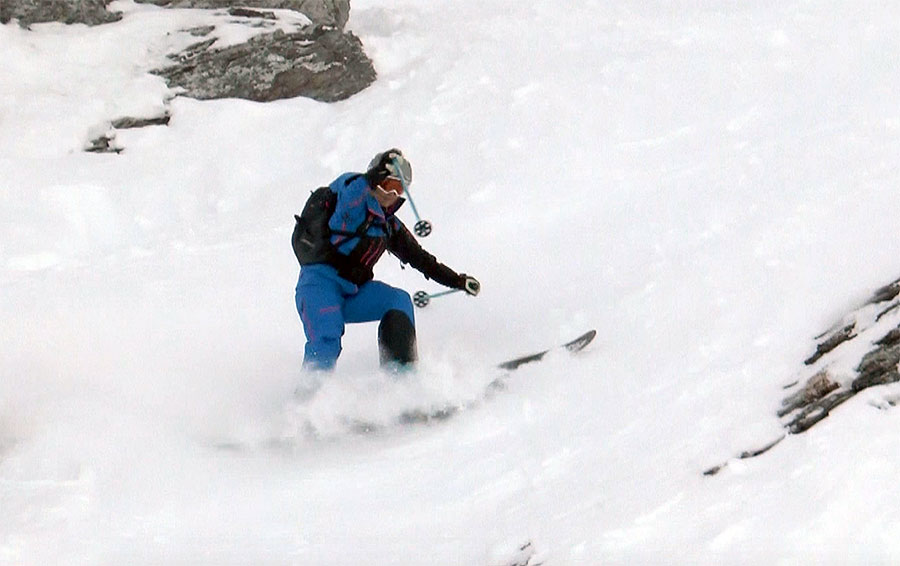 Hips and shoulders rotating resulting in a safe platform being lost in a steep tight area.
From our on mountain analysis of this particular movement we have been able to estimate that to make a technically sound turn in a narrower corridor situation even on a blue/red run a skier must be able to steer each leg within the hip socket to a minimum of 70 degrees across the fall line to have any chance of performing the sport technically correct. By putting people through our leg steering range test we are able to measure the natural range between left and right turns.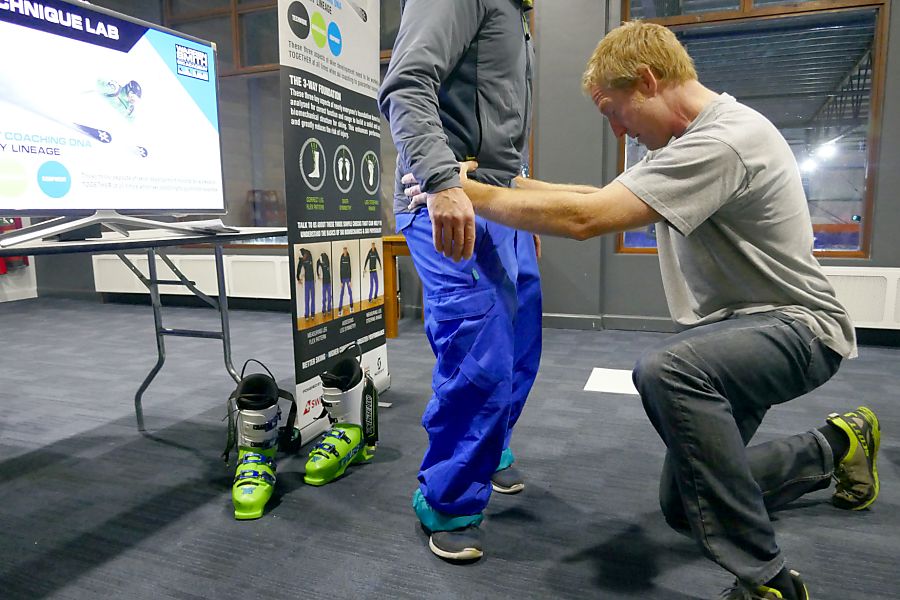 Warren performing the leg steering range test on a tour participant.
The nationwide results from these tests were hugely varied and quite alarming. The average inward rotation range over more than 1000 people was 45 degrees. 90% of people showed over a 20 degree difference between left and right and only 5% of people tested showed a clear range of 70 degrees in each direction. Some rotation scores were under 20 degrees which will make skiing progression near on impossible and also increase the risk of injury considerably. So overall most people didn't have the range needed to ski technically correct and most also showed that they have a big difference between left and right.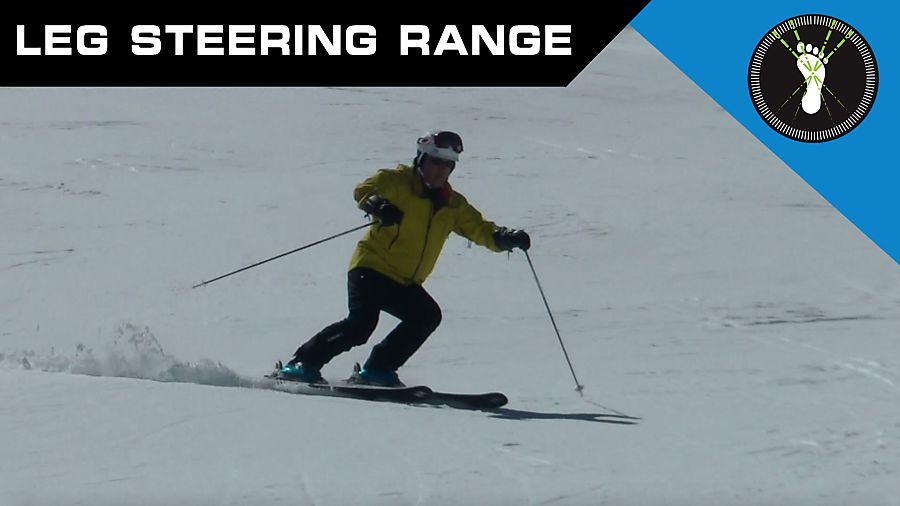 A skier showing a clear hip rotation due to lack of inward rotation on outside leg
The same skier showing clear leg steering on the stronger turning direction.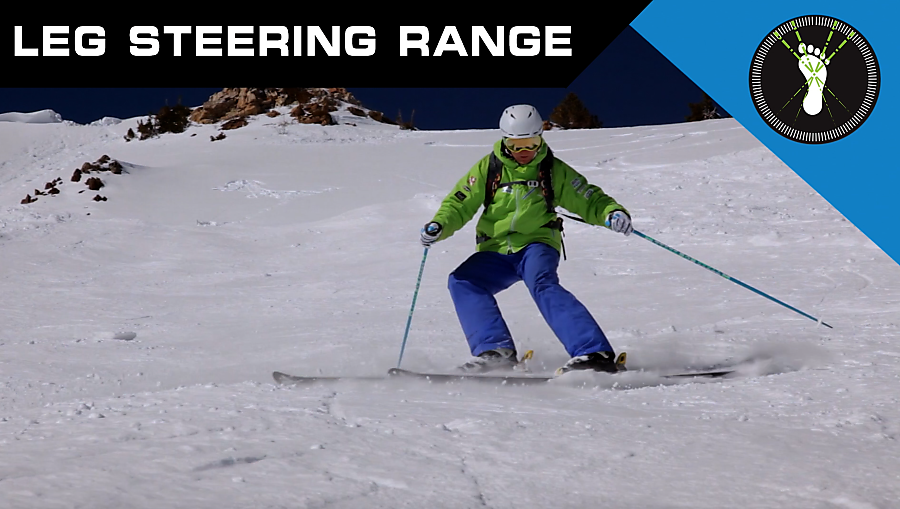 A pure leg steering example in a narrow corridor
All participants were once again given a detailed explanation of the reasons for this. Most of it coming down to the fact that inward rotation is not used much in day to day life so that way why the scores were so low. Simple and effective use of the range will get it firing and working for you. Putting a ski pole across the hips and simply practicing the range was the main thing people took away and started working on. The other was a stretching program working on particular muscles including the Piriformis and Gluteus Medius that if tight will reduce the ability to rotate inwardly.
www.warrensmith-skiacademy.com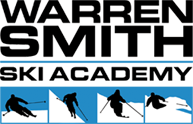 The Admin Man
This is an interesting explanation.

Many skiers will look and say, "well, OK, but I don't get involved in moguls, steeps, couloirs, tight spaces."

However, almost everyone will sometimes have a need to operate shorter radius turns. When? Well you are comfortably cruising down your selected run, and ~ something happens. Someone cuts across you, someone falls directly in front of you, and then there are snow boarders.... (just joking, guys) I once was head down racing my son, but had a russian type hat on, heavy earmuffs, unable to hear the desparate blasts of the piste machine, with whirling blades, coming towards me, and just 15 ft away..... that was my shortest ever radius turn in 50 years of skiing.... It is an instant need to turn rapidly.

I would think this test may be more accurately carried out, using a turntable, or probably, two turntables. The same devices could then be used in repeat exercises, in order to increase the rotation range.

Then you can go for those moguls, steeps, couloirs, tight spaces.....

I also meant to add an observation about the yellow coated skier. In his left turn, his upper body is also not facing downhill, compounding the lack of angle.

The RH turn, compared with the LH turn is classic with RH people. I recognised this very early in my skiing days. and made a deliberate decision to start my run with a LH turn.

Both of my sons are left handed. They are now both good even style skiers, but in early days, I spotted their LH turns were cleaner than the RH turns.
Topic last updated on 18-November-2016 at 22:42