J2Ski Snow Report August 24th 2023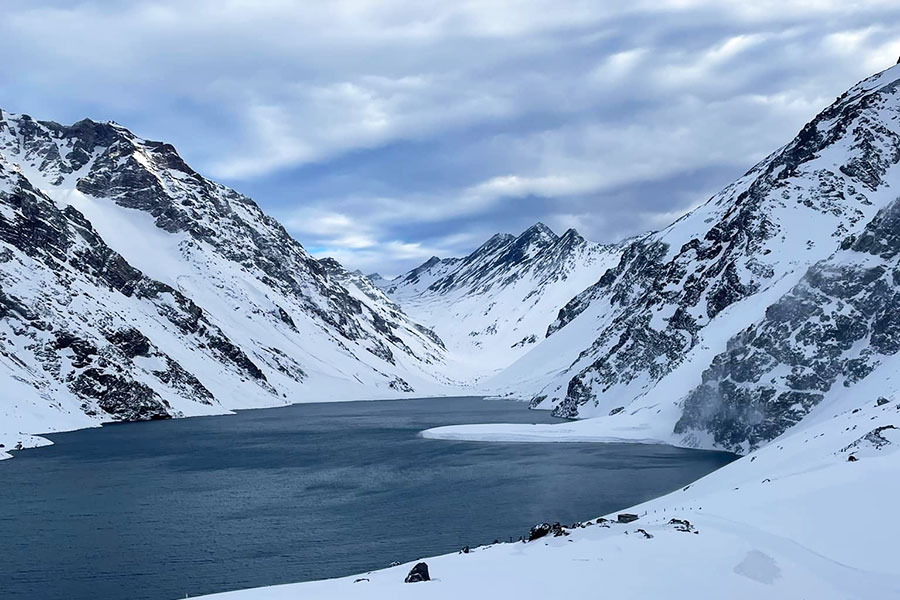 Portillo, Chile, reports 250cm (8 feet) of snow over the past 5 days...
Big snow in South America, fresheners for Aussie ski areas, and a little summer snow in the Alps.
The Snow Headlines - August 24th
- Heavy snowfall on South American ski slopes; up to 3 feet in 24 hours.
- Less than 50 days to 23-24 season opening day in Finnish Lapland.
- Australian resorts post best conditions for a month after multiple snowfalls.
- More snow for New Zealand - which posts world's deepest snowpack.
- New record warm temperatures on Alpine glaciers, Passo Stelvio closes.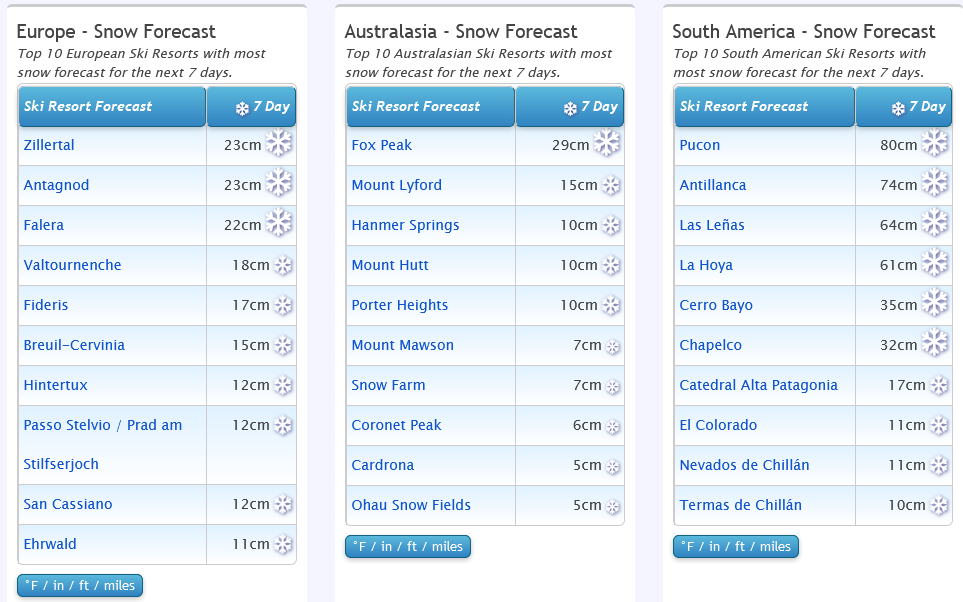 Powder in South America, summer snow dustings in Europe.
Re-publication :- our Snow Report Summary, being the text above this line, is free to re-publish, but must be clearly credited to www.J2ski.com with text including "J2Ski Snow Report" linked to this page - thank you.
World Overview
Most ski areas in the southern hemisphere have seen fresh snowfall in the last week, some of them quite significant accumulations.
In Australia, the return of snowfall after a warm month - which we started to report on as it arrived last week - continued through the weekend leading to big improvements there.
In South America, the snow in the Andes and Patagonia arrived at the weekend and has continued through much of this week, increasing in intensity to become one of the biggest snowfalls (anywhere) of 2023.
For New Zealand, fresh snow has further improved what were already the best conditions of the season so far.
In the northern hemisphere, thoughts are increasingly turning to the first snowfalls up high and then the first areas opening for the 23-24 season in September and October.
Five resorts are still officially open for summer skiing in Europe; four in the Alps (one temporarily closed), and one in Scandinavia. Those in the Alps have seen very high temperatures on their glaciers, getting above 10C, and seeing the freezing point reach a new record high, with a resulting drop in snow depth and open terrain.
Southern Hemisphere
Australia
Australian ski areas saw repeated snowfall through last week, with several reporting total accumulations of 40cm from 3-4 separate snowstorms.
It has been drier and sunnier since the weekend but stayed cool enough for overnight snowmaking to continue. All this has improved conditions a good deal going into the first month of spring.
Thredbo has joined
Perisher
in posting a 1 metre plus upper slope base,
Falls Creek
remains 90% open (the most in the country) and
Selwyn
ski area has been able to reopen its slopes.
New Zealand
It's been a
mostly
good week in New Zealand with more fresh snowfall (Mt Hutt reported 15cm on Monday) and generally excellent conditions across the country's ski slopes.
The only negative weather factor has been gales at times closing some areas temporarily.
Mount Ruapehu continues to post the deepest snowpack in the world at over 2.5 metres at its
Turoa
ski area. The centre, which has financial issues and at one point feared it might not open this season, notes that it is having one of the best winters for snowfall in its history and is not yet halfway through its season, which is typically the last to end in the southern hemisphere in late October or even "Snowvember".
South America
Argentina
It has been one of the snowiest weeks of the season so far in Argentina with up to 60cm (two feet) of fresh snowfall reported.
Most of the country's ski areas did have below-average cover so this is a much-needed boost ahead of what is for most the final four weeks of the season.
Catedral near
Bariloche
continues to post the most terrain open anywhere in the country (or the world) at present) with about 80km (50 miles of slopes available, while Las Lenas now has the deepest snowpack in the country and has reported further heavy snowfall over the last few days.
Chile
It was a very cold and very snowy start to the week for most Chilean ski areas, transforming conditions and closing several centres while the snowstorm was at its height.
Portillo saw its base depth jump by over a third to 2.1 metres (seven feet), on Wednesday reporting 94cm (over 3 feet) of fresh snow in the previous 24 hours.
It was a similar, if not quite so snowy, picture across the country's ski areas though with
Valle Nevado
also reaching the 1 metre base depth point at last and
El Colorado
posting the most terrain open in the country at present.
Africa
The 2023 season never really got going in southern Africa with Tiffindell in South Africa still not open, for the fourth successive winter, and Afriski in Lesotho only making limited amounts of snow and not running its main lift.
Afriski did offer a small snowboarding area but that's believed to have now closed, with 'Winterfest' bringing the season to a conclusion last weekend.
Europe
Alps
It has been a challenging week for the four glacier ski areas still open in the Alps – the main issue being double-digit temperatures even at 3,500m, and overnight lows not getting back below freezing either.
At one point the freezing point was reported by Swiss meteorologists to have hit a new record high of nearly 5,300m altitude, or about 500 vertical metres higher than
Mont Blanc
.
The result, inevitably – rapid thawing of the remaining snowpack.
The hardest hit is Austria's year-round
Hintertux
where the snow is now just 20cm deep and there's only about a mile of slopes open rather than the usual 20km.
Passo Stelvio in Italy is the first to announce it is actually closing, temporarily they hope, from Friday 25th to at least next Tuesday 29th when they'll review their position.
Switzerland's Saas Fee and
Zermatt
haven't reported too much of a hit on their reported 2m+ bases and still have about 12km of slopes open each, although that's down about 20%.
The good news is that colder temperatures are expected through the weekend and there's likely to some snow on high slopes.
Scandinavia
Norway's Galdhopiggen glacier, located on Scandinavia's highest slope, is still open and continues to experience a full range of weather; some sunny spells but also periods of rain, sleet and snow, it being much cooler here than further north.
The Finnish ski resorts of
Levi
and
Ruka
say there is less than 40 days to go until they both plan to open a few kilometres of slopes each, thanks to snow farming; recycling last season's stored snow and spreading it back out on the slopes as temperatures cool.
North America
With Mammoth and
Timberline
ending their 22-23 seasons earlier this month, there's nowhere currently open in North America, other than the indoor snow slope of Big SNOW in New Jersey.
After the warm weather of recent months conditions have cooled, resorts have seen stormy and wet weather with one small centre, Pomerelle, spotting a brief snow covering in the middle of the night earlier this week when they reviewed the webcam recordings. It had gone again by the morning.
Loveland in Colorado expects to start snowmaking in just over a month's time at the start of October with the first areas likely to open, conditions permitting, by mid-October.
Many of the continent's big-name resorts have announced target opening dates now with
Breckenridge
,
Lake Louise
and
Vail
among the first on November 10th.
Park City
and
Whistler Blackcomb
, aim to follow a fortnight later.