J2Ski Snow Report August 18th 2023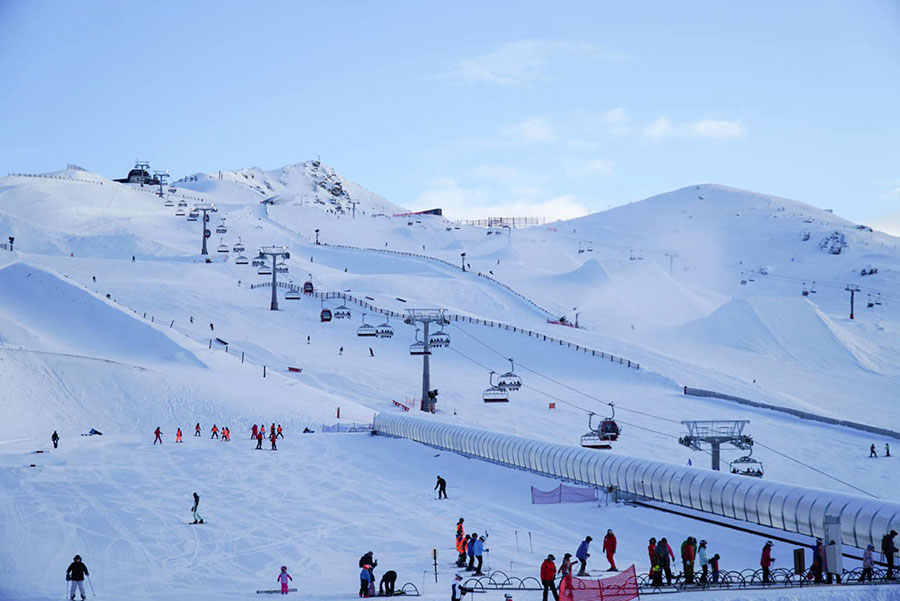 Cardrona, New Zealand, now well covered and skiing well...
Snow storm inbound for the Andes, and NZ gets refreshed.
The Snow Headlines - August 18th
- The last area still open in North America, from 22-23, closes its lifts until next season.
- Catedral in Argentina has biggest ski area open in the world at present.
- Australian ski areas see colder temperatures and more snowfall.
-
Mount Hutt
and
Coronet Peak
open 100% of their terrain for the first time this winter.
- Less than 7 weeks until Lapland's
Levi
and
Ruka
expect to open for 23/24 seasons.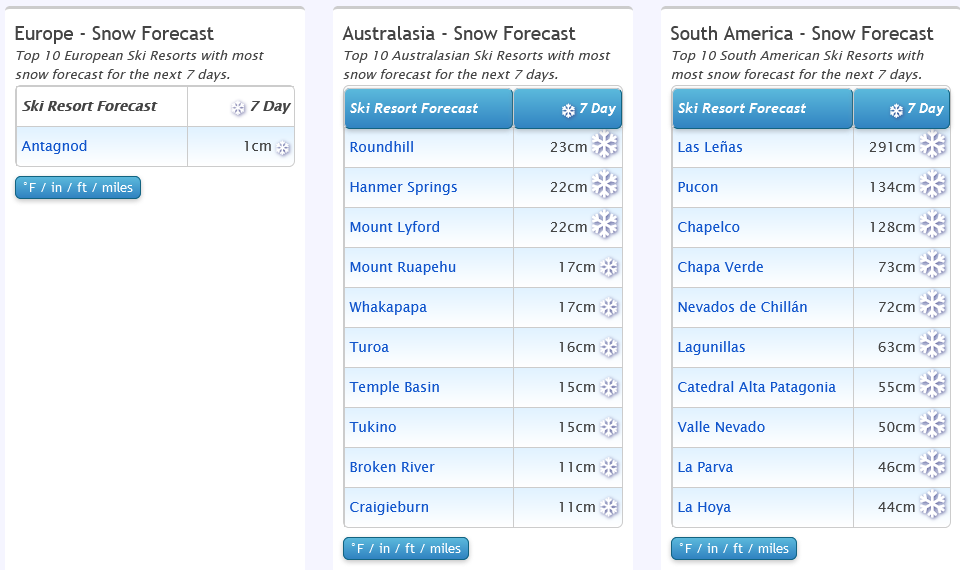 Snow storm incoming for South America
Re-publication :- our Snow Report Summary, being the text above this line, is free to re-publish, but must be clearly credited to www.J2ski.com with text including "J2Ski Snow Report" linked to this page - thank you.
World Overview
Fairly positive news from most southern hemisphere ski areas.
For Australia, there has at least been some fresh snowfall at last, then good cold temperatures for overnight snowmaking. A little more snowfall is now imminent too.
In New Zealand, it has been colder and snowier too with several areas now 100% open for the first time this season, and
Mount Ruapehu
posting the deepest snow in the world.
Less to report from South America but all areas are open and the biggest Catedral continues to have by far the largest area open on the planet at present. There's snow in the forecast there.
In the northern hemisphere, it's just Europe where ski areas are still open, as the last North American area closed on Sunday, following the last in Asia a month ago.
Five glacier areas remain open in the Alps and Scandinavia despite warmer weather this week, while we're only two months away from the start of the 23-24 season in the US!
Southern Hemisphere
Australia
After a month of predominantly dry weather, there's been a positive change in the weather in Australia, with snowfall returning as we published last week's report, followed by pretty good snowmaking conditions over the past week.
Temperatures have been much cooler than the previous week, in the -5 to +5C range and there have been more snowfalls with more forecast.
Perisher continues to post the deepest snow at over 1.3 metres and the most terrain open – nearly 50km, the second most in the world at present. But it's an improving picture too at
Falls Creek
(which is back to more than 90% of its slopes open), Mt Buller, Mt
Hotham
and
Thredbo
.
New Zealand
A positive week in most respects for New Zealand with cold weather and frequent snow showers allowing all of the country's ski areas to open.
Turoa on Mount Ruapehu continues to post the world's deepest snow at over 2.5 metres and Mount Hutt and Coronet Peak have both been able to fully open for the first time this season.
A Mt Ruapehu spokesperson said that this is "some of the best snow we have seen at Tūroa for years." The only blip really was gale force winds and low visibility closing a few centres at times this week as the long-awaited wintery weather continues.
South America
Argentina
There's not been much fresh snowfall to report in Argentina over the last week and bases remain in the 10cm to 70cm bracket.
Temperatures have been dipping well below freezing though and all the main centres are open, typically offering 60-80% of their potential terrain. Catedral ski area near
Bariloche
has the most – around 90km of slopes open.
Potentially heavy snow is now in the forecast for parts of Argentina.
Chile
It has not been the most dynamic season for snowfall so far in Chile and recent weeks have seen temperatures climbing too and few snow storms to report. Daytime highs at resort level reaching +10C and plenty of sunshine.
Despite this most centres are open, albeit with fairly thin bases for this part of the season – the majority with just 30-60cm (1-2 feet) of snow lying.
Portillo
, with about 60% of its terrain open, continues to post the country's deepest snow at 1.2 metres.
El Colorado
has only 10cm at its base and 50cm up top but posts the most terrain open in the country, about 40km of runs.
Europe
Alps
The same four glacier ski areas remain open in the Alps as has been the case through August and will hopefully continue to be so at the start of September.
They're Austria's
Hintertux
, Italy's Passo Stelvio and Switzerland's Sass Fee and
Zermatt
, the latter also accessible from Cervinia.
The past week has seen temperatures rise to +5C even 3,500m up at glacier level, and not often drop back below freezing overnight, so it's challenging to maintain snow cover.
About four glaciers are lined up to open in Austria next month, conditions permitting, but Italy's
Val Senales
which usually opens in early September won't be doing so this year due to lift upgrade works and there's nowhere known to be opening in France until late November.
Scandinavia
Scandinavia's highest ski slopes at the Galdhopiggen glacier in Norway remain the only area still open in the region. There's about a mile of runs here and temperatures have been a little warmer this week, but the snow is still reported to be five feet deep. All being well it will remain open through the autumn and still be operational in seven weeks time when Levi and Ruka in Finland are due to begin their 23-24 seven-month-long ski seasons.
North America
After
Mammoth Mountain
ended its nine-month season a week last Sunday, the one remaining open area, Oregon's
Timberline
, said it was following suit and closed last Sunday 13th.
So all eyes are on the start of winter 23-24 with Loveland in Colorado's "countdown to the start of snowmaking" web page clock down to less than 6 weeks to go!