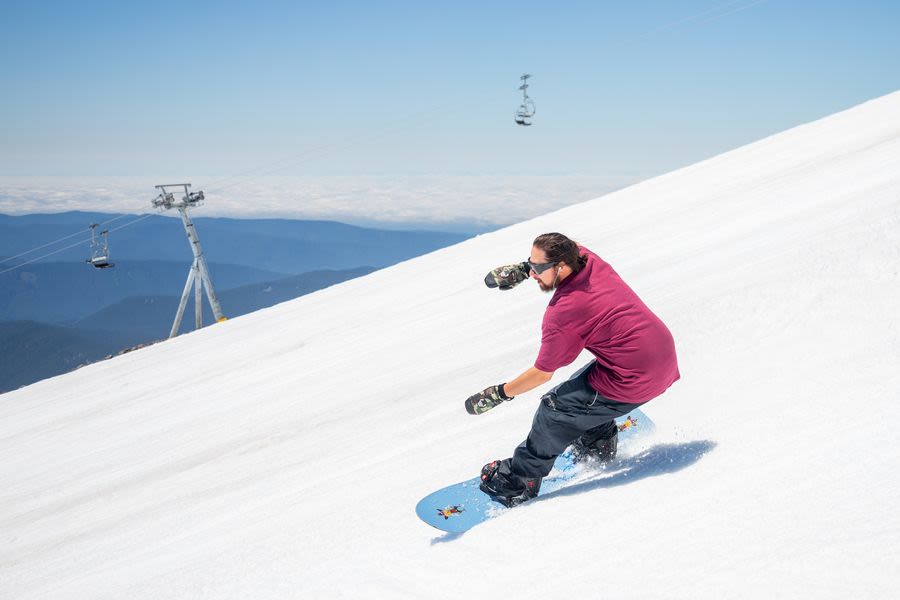 Timberline ski area in Oregon, the only ski area still open to the public for the 22-23 ski season in North America has announced that this coming Sunday 13th August will be its last day.
Timberline
, which offers skiing and boarding on the Palmer permanent snowfield on Mt Hood, is usually the last area open in North America and often the only real choice in July and August.
This year however it had company from a number of resorts after huge winter snowfalls left the snow lying well into summer across Western US slopes.
Mammoth Mountain
only ended its 275 day season, its second longest ever, on Sunday 6th August.
Timberline says it has had over 700 inches (over 58 feet/nearly 18 metres) of snowfall this season but recent months have seen temperatures in the 70s/80s Fahrenheit, there's only a few miles of slopes open each morning and its base is greatly diminished with no official measure posted. Kit's terrain park is closed.
In good years in the past Timberline stayed open for skiing for around 11 months, closing after the US Labor day holiday at the start of September then opening for the next season the following month!
All eyes now turn to the start of the 23-24 ski season. A number of ski areas including
Lake Louise
and Mammoth have named November 10th, less than three months away, as their target opening dates while a number of high altitude resorts in Colorado as well as snowmakers in the Midwest will aim to open in October.
Loveland ski area in Colorado says they are 50 days away from their target snowmaking start date at the end of next month.