J2Ski Snow Report June 2022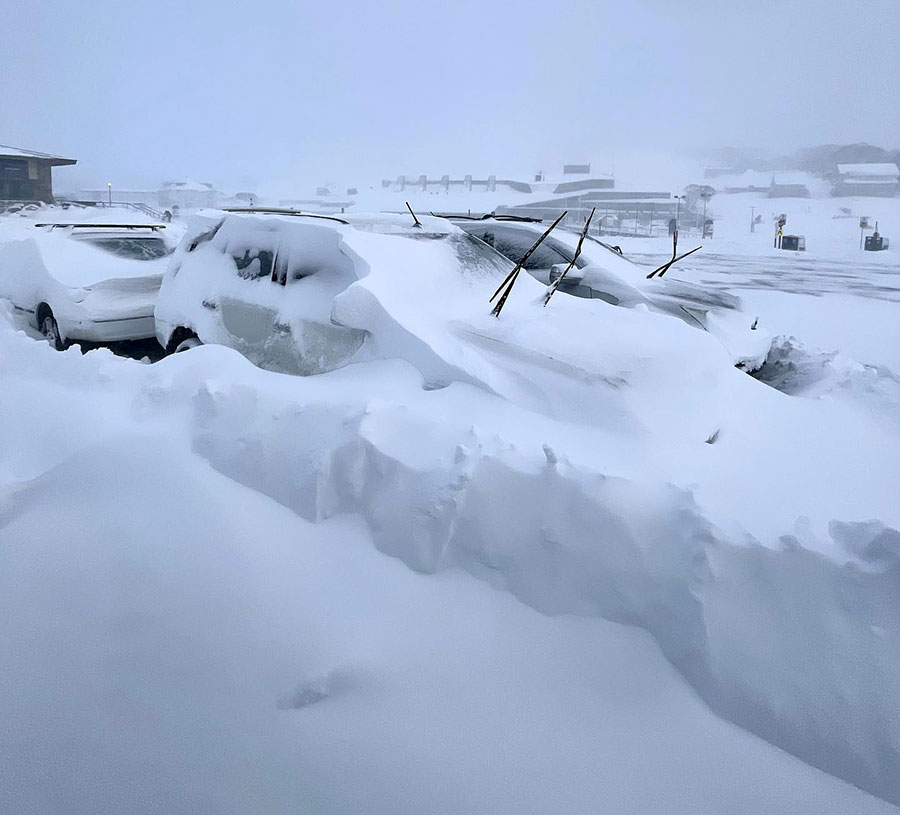 Snow in the car park for Perisher, Australia - opening this weekend!
Southern hemisphere winter is coming!
The Snow Headlines - June 2022
- Southern hemisphere season starting imminently, closest to 'normal' for 3 years.
- International skiers able to return to southern hemisphere for first time since 2019.
- Australia's ski season starting a week early thanks to pre-season snowstorm.
-
Killington
extends season into June for first time since 1990s.
- Vaccination certificates not required in the Andes but evidence of full insurance is.
- Some ski areas in the Alps and Western US close due to heat, others extend seasons.
- Big pre-season snowfall in Argentina raises anticipation.
- Snowfall in Alps and western North America for final weekend of May.
- Only summer-ski-only ski area in US decides not to open in 2022.
- Blackcomb glacier to open for summer skiing for first time since 2019.
Excitement is building in the southern hemisphere as the 2022 season draws near. Afriski in Lesotho and
Whakapapa
in New Zealand are expected to be among the first to open, on the first weekend of June, thanks to their snowmaking efforts.
The biggest news is that one of the southern hemisphere's largest centres,
Perisher
in Australia, is to open a week early, for the first weekend of June, with the country currently being hit, with perfect timing, by a major pre-season snowfall.
Elsewhere decent snowfalls and cold weather have been reported in the major ski regions of New Zealand, the Andes and Southern Africa. Most ski areas here will open from the second-weekend of June onwards with the majority of the 100 or so ski areas on the southern side of the equator expected to be operational by the end of the month.
For most of these ski nations this will (hopefully) be the first nearly normal ski season for three years.
At the start of this winter all southern hemisphere ski areas are open to international travellers again, although some restrictions are in place - varying from country to country. Some will only allow arrivals from certain nations at present, others will only allow those with vaccination evidence and others still require arrivals to have evidence of comprehensive travel insurance in place before they're allowed to enter the country.
In the northern hemisphere about two-dozen ski areas remain open for June skiing in Asia, Europe and North America.
Hot weather in the Alps led to the early closure of a few glaciers like the
Kaunertal
and
Stubai
which had planned to stay open into June, but others are still open so far. There was fresh snowfall reported down to quite low levels for the final weekend of May too. North America meanwhile has seen a real roller coaster with +90F/30C temperatures followed by several feet of snowfall in the Rockies. This led some areas to close earlier than expected, others to announce extended seasons. There was more snowfall for the country's Memorial Day long-holiday weekend on the last Monday of May.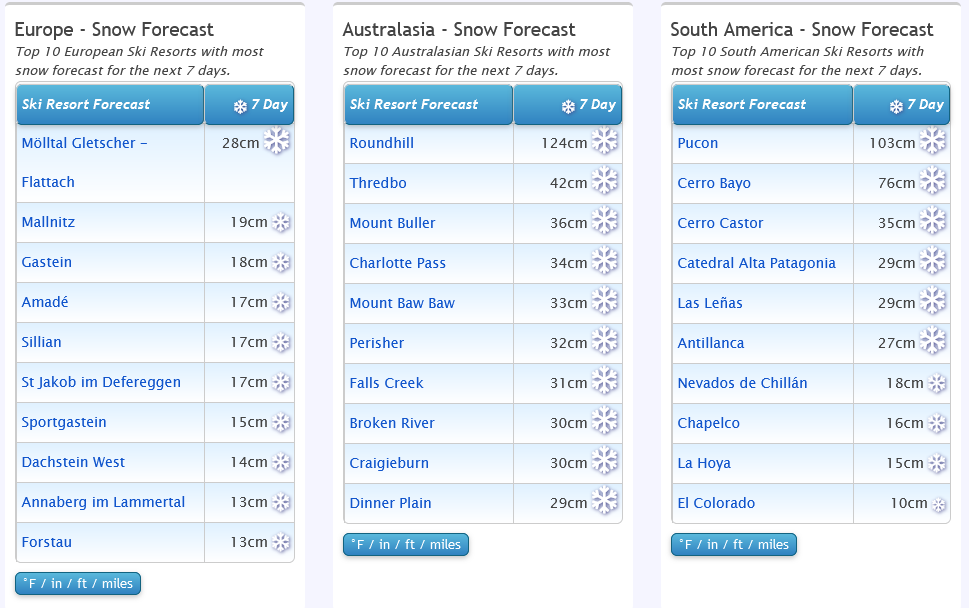 Australia, New Zealand and South America on the radar for snow...
Re-publication :- our Snow Report Summary, being the text above this line, is free to re-publish, but must be clearly credited to www.J2ski.com with text including "J2Ski Snow Report" linked to this page - thank you.
Southern Hemisphere

We're at that exciting but difficult-to-predict point in the year when the southern hemisphere's season is about to start but we're not quite clear how good the opening month is going to be.
The early signs have been generally promising, with pre-season snowfall and temperatures low enough for snowmaking at the end of May in Australia, the Andes, New Zealand and Lesotho. But whether that remains the case over the next few weeks is they key issue.
So far it's looking fairly good – particularly in Australia where a major storm straddling the end of May and start of June is expected to bring 50-80cm of snowfall to New South Wales and
Victoria
leading to early opening announcements for Perisher so far with more possibly following.
The Andes too have had some good snowfalls over the past week.
As it stands, Whakapapa in New Zealand should be the first to go, opening its Happy Valley snow fun area this Friday, 3rd June, with Afriski in Lesotho and now Perisher in Australia opening their slopes the next day.
After that, currently, in terms of full ski area openings,
Charlotte Pass
in Australia and Mt Hutt are looking at the Friday of the weekend after, the 10th, with most Aussie areas along with
Cardrona
in New Zealand following the same weekend. Then the first in the Andes and the rest over the following weekends through June and into July.
The Alps
It seems to have got hotter earlier than ever in the Alps this years with temperatures hitting +30C in the middle of May, although we did get back to snowfall down to about 2,000m which interrupted some summer operations at the start of the month. So it's a bit of a roller coaster for the summer ski centres, particularly after not great snowfall figures last winter.
We start June with three ski areas that would usually be open at this point in the year in Austria, the Molltal, Stubai and Kaunertal glaciers, closed to skiers. The Kaunertal and Stubai both usually end their eight-month seasons early in June anyway but decided to close a fortnight early in mid-May this year because of the snow issues.
The Molltal, Carinthia's only summer ski centre, has been increasingly problematic with its opening over the past few years and has now announced it won't attempt to open until September/October.
In better news the summer ski season has started, on the last weekend of May, in France and Italy, neither of which had anywhere open in the latter part of last month. Les 2 Alpes re-opened, with Europe's largest summer ski glacier, including a new blue run this summer, as did Passo Stelvio.
The French glacier at
Tignes
will re-open for summer skiing later this month, on the 18th of June, and Cervinia will also be providing access to glacier skiing shared with neighbouring
Zermatt
, at the end of the month.
Otherwise the centres already open and set to stay open, all being well, right through June include
Hintertux
and the
Kitzsteinhorn
in Austria and Zermatt in Switzerland. Crans Montana, still celebrating from being awarded the 2027 FIS Alpine Ski World Championships a few days ago, currently has a small area at the top of its glacier open but plans to end their long seasons on the first weekend of this month.
Northern Europe
In Scandinavia Europe's most northerly major ski area, Riksgransen, ended its 2022 season on the final weekend of May and has said it won't do its traditional reopening for midsummer's weekend in June. We do have Norway's three summer ski centres to choose from this month however – three is actually the most any northern hemisphere country is likely to offer in June, matching France (by the end of the month) and only beaten by the USA (at the start of the month), with Austria and Italy down to two and Switzerland and Japan just one a piece.
The Fonna and Galdhoppigen glaciers are already open for their 2022 seasons with Fonna posting the deepest base in the world at present at more than eight metres. The third centre, Stryn, should be open as of the 1st of June.
North America
There was really yoyoing weather in North America in the latter half of May, perhaps most noticeably measured around the weekend of the 21st/22nd when temperatures in the Colorado Rockies went from 90F to below freezing in 24 hours, followed by a record-for-time-of-year 16" (40cm) snowfall. This happened a week after
Breckenridge
and
Snowbird
had ended their seasons a fortnight earlier than planned due to the hot weather and fast thaw.
Another variation came further north with the sole summer-only ski area in the US, Beartooth Basin on the Wyoming/Montana stateline (formerly Red Lodge) announcing it won't open in 2022 due to lack of snow, while
Timberline
in Oregon, the only ski area in North America likely to stay open throughout June, reported a much better than average 5 metre (16 foot) snow depth on its Palmer summer snowfield.
There was more snowfall for the final weekend of June in the USA, ironically the heaviest, up to three feet, reported for Beartooth Basin where drivers were trapped in cars as roads were blocked by the unseasonal snowfall.
All that being said, where's open for June 2022? Well as we start the month there aren't many survivors and it's not clear how long those currently open will stay open, but besides Timberline we still have lifts turning and slopes open at Mammoth in California,
Arapahoe Basin
in Colorado and Crystal Mountain in Washington state, which recently announced it would stay open two more weekends than originally planned, to mid-May, reporting it has had 10 feet (3 metres) of snowfall in April and May.
North of the border, in Canada, Whistler is due to re-open for skiing on the Blackcomb Glacier for the first time in three years from the 11th, although only those enrolled in camps can ski at this time.
Killington in Vermont has also announced it plans to re-open for skiing on the first weekend of June, it's latest opening for 25 years.
Asia
Japan's Gassan summer ski area, which relies on a build up of winter snow to open through spring and early summer is currently open with about a 4 metre snowpack remaining as we start June (half what it was when it opened for the season in early April) which should be enough for it to remain open daily throughout June.