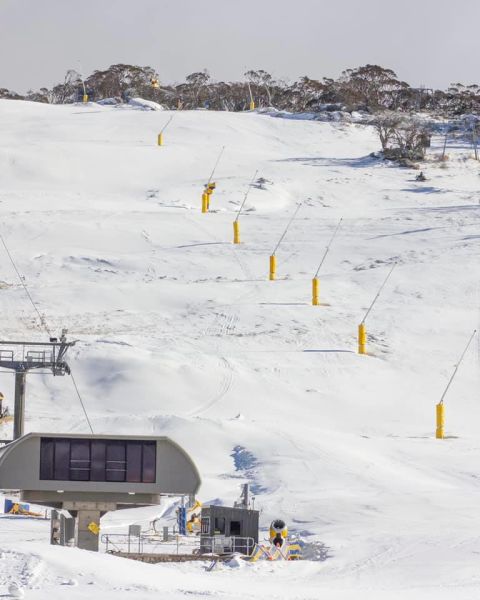 There's nervousness in the Australian state of Victoria as the start of the 2021 ski season is only 12 days away but the state, home to around half of Australia's leading ski areas, has gone in to a 7 day pandemic lockdown.
The lockdown is a response to several cases of the Indian variant of COVID 19 being detected in
Victoria
and, all being well, will end this Thursday, 3rd June, just over a week before the ski season is due to kick off in the state on June 12th.
Local businesses had said that after the 2020 ski season was all but written-off in Victoria, booking levels for some are at a 10 year high ahead of the expected season start.
Before the current mini-lockdown optimism had been high with few cases of the virus for some time and a quarantine-free travel bubble opened recently with New Zealand.
Although there has not been a huge amount of snowfall recently, and little forecast before the hoped-for season start date, cold weather has allowed snowmaking systems to build bases.
The country's largest ski area,
Perisher
(pictured above a few days ago), has just announced it is opening a week early on Thursday 4th June.
Last year repeated lockdown in Victoria meant some of the state's ski areas only managed to open for 2-3 days. Over the border in New South Wales more areas operated for most of the season as they did not have the same lockdowns.
"It is obviously very disappointing that there has been a COVID-19 outbreak so close to the start of the 2021 snow season, as we are as excited as you are to get out and enjoy the snow," Mount Hotham Skiing Company said in a statement, which continues,

"We support the actions announced by the Victorian government yesterday to reduce the spread of COVID-19 and we will promptly implement arrangements to comply with the requirements while continuing to prepare for the opening of the season at Hotham scheduled for 12 June, weather and conditions permitting.

"We are confident that the Victorian government and community will take the necessary action to bring the outbreak under control and anticipate having a successful COVID safe 2021 winter season at Hotham."