From 07 to 10 April 2021, the Audi Nines freestyle competition will take place in Switzerland for the first time.
Crans Montana will host the event, which will be more modest than in previous years, with fewer riders.
Even so, a stellar crew of international top athletes will take on one of the most ambitious snowparks ever designed.
The opportunity to organise this major freestyle event is a coup for Crans Montana. For several years, the resort has been developing their action sports programme, including the super Alaïa facility.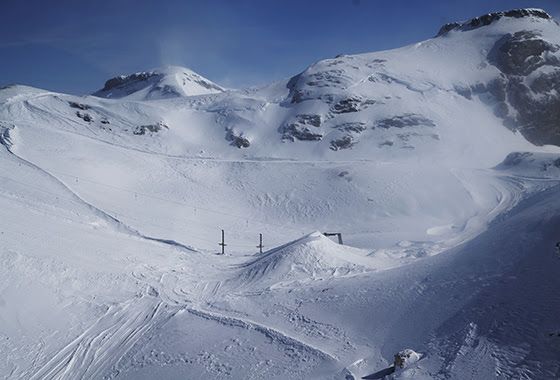 "It's a challenge, but above all an honour, for us to be able to host the Audi Nines in
Crans-Montana
" said Romain Espejo, organiser of the event. "The event requires a very specific snowpark design for athletes to express their creativity."
The park has been constructed on the Plaine-Morte glacier, but due to Coronavirus limitations the event will take part 'behind closed doors'.
This year the Audi Nines has collaborated with Audi designer Sebastian Gehwolf, to create one of the most ambitious and breath-taking constructions ever seen in snow.
The 2021 Audi Nines setup will have a variety of jumps, rails and other features to challenge the world's best freestyle skiers and snowboarders.
The venue centres around a double-sided main feature that is approachable from opposite directions. The design includes a large 'step-up', a classic jump where the landing is much higher than the take off.
Other innovations include a massive snow sphere 8m in diameter that riders can bounce off, jump over or even jump through with the help of a tunnel.