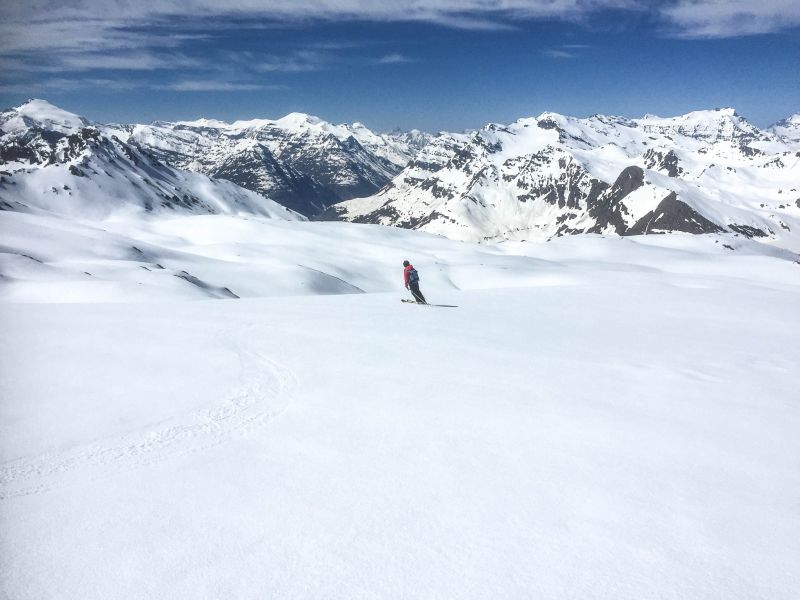 France's three remaining summer ski areas will start to begin 2018 summer glacier ski operations from tomorrow.
Val d'Isere will be the first to open its glacier ski area on Thursday 14th June, it will be joined by Les 2 Alpes and
Tignes
on the 23rd.
Val d'Isere is in fact already open for snowsports in another area of the resort where winter slopes have re-opened for two weeks of morning skiing in summer as there's so much snow left from the winter.
That ends on Saturday but for three days it will be possible to summer ski at two separate sectors of Val d'Isere as the Pisaillas glacier (pictured top) re-opens on Thursday.
At Tignes the Grande Motte glacier will be open from 23rd June to 5th August – one of the shortest summer ski seasons yet.
20km of slopes will be open from 7.15 am to 1 pm accessed by the Perce-Neige funicular up to 3,032 metres altitude in less than 7 minutes with lift passes costing 25€ a day.
Skiing and boarding will also recommence on "Europe's largest skiable glacier" on 23rd June when Les 2 Alpes will kick off their summer season with an Outdoor Festival from 22 to 24 June.
Besides skiing or snowboarding guests can also try mountain biking, trail running, slackline, waterline, yoga, street golf, rock climbing, paragliding, mountain boarding…and more over the weekend.
The resort reports that the glacier is in superb condition after all the winter snow. It offers snowsports between the altitudes of 3,600 and 2,600 metres at the stat start of the summer ski season with the lower slope height moving to 3,200m later in the season. All being well it will be open three weeks longer than Tignes to 26 August, 2018