Where To Ski or Snowboard In June 2018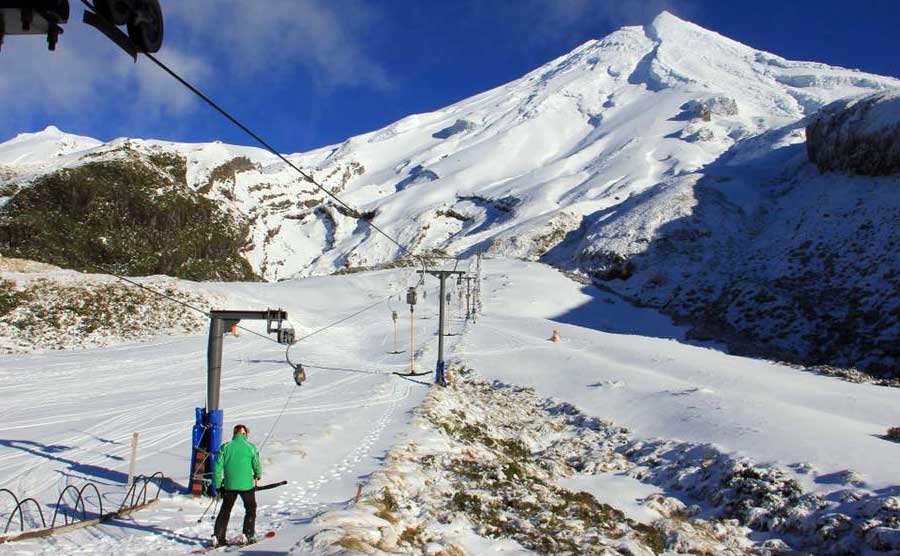 Early opening at New Zealand's Manganui! (picture from Stratford Mountain Club)
With 3 weeks to go until the Summer Solstice, here's our guide to where you can ski this month.
June's Snow Headlines
- Southern Hemisphere ski season started May 31st as Kiwi resorts opened early.
- Val d'Isere re-opens winter slopes for summer skiing on (for first time ever).
- Riksgransen cancels Midsummer ski and closes before June due to lack of snow.
- Deep snow packs on glaciers as ski areas start opening for summer skiing.
- All three Norwegian glaciers open by first weekend in June.
- Three New Zealand resorts open first weekend in June (two earlier than planned)
- Three French summer glacier areas to open by last weekend in June.
- Skiing under the midnight sun in Sweden.
The end of May marks a low point in the global ski calendar when less than 20 ski areas are still open in the northern hemisphere from their ski season, but the southern hemisphere's ski season hasn't really started, nor has the main two months of summer skiing in the Alps.
That all changes from the first week of June as those summer ski areas do start to re-open as do the first southern hemisphere ski areas for their 2018 season. There's also a tiny sub-set of six or seven northern hemisphere areas which only open in the late spring and summer, being 'snowed in' until about now – they're opening too.
The good news is that May was a snowy month for many mountainous areas in both hemispheres. There was heavy snowfall in mid-May in the Alps – providing powder alarms for the few glacier areas still open and building on still deep glacier bases from the very snowy past winter.
In the southern hemisphere the last week of May has seen heavy snow in the Andes and New Zealand with some snow in southern Africa too, there's also been fresh snow in southern Africa and, earlier in May, Australia.
In the Forecast
Temperatures a little higher than average in the European Alps for the next week, but with significant precipitation also forecast which will bring snow to the highest peaks.
Only a handful of resorts are open, so check local conditions and opening times directly before travelling!

Snow coming into the forecast for next week in NZ...
Re-publication :- our Snow Report Summary, being the text above this line, is free to re-publish, but must be clearly credited to www.J2ski.com with text including "J2Ski Snow Report" linked to this page - thank you.
NORTHERN HEMISPHERE
The Alps
We are down to 7 ski areas open in the Alps as we start June, five of them in Austria. Two of the Austrian areas (
Kaunertal
and
Stubai
glaciers) are due to close after the first weekend of the month, but four European summer ski areas should re-open by the end of the month, meaning we should have a net-gain, up to nine choices, by the start of July!
So, where's
still
open from, winter 17-18?
After
Engelberg
closed on the last weekend of May, only
Zermatt
is open in Switzerland until Saas-Fee re-opens next month. In Italy, Cervinia closed last weekend too, but the road up to Passo Stelvio was cleared so it has just re-opened, and indeed Cervinia will
re-open
for summer skiing at the end of June too!
In Austria the year-round Dachstein and Hintetrtux glaciers are open and the
Kitzsteinhorn
is also supposed to stay open through to July.
France, where everywhere is currently closed, has a new development this year with Val d'Isere re-opening some of its winter runs - accessed by the funitel - for the first time ever, due to receiving half as much snow again as its average annual total, last winter. The lifts will run in the mornings only from Sunday June 3rd for a fortnight when its regular glacier ski season starts.
The country's other two glacier destinations, Les 2 Alpes and
Tignes
, will re-open at the end of the month.
Scandinavia
It's summer ski time in Scandinavia where all four of the region's areas are open as we enter June, but perhaps only two will be by the end of the month. Norway's three glacier areas – Galdhoppigen, Folgerfonn and Stryn are all open, Stryn opening a week early. However whilst the other two areas report 3m+ bases, Stryn say they expect their ski season (which had been due to run to mid-July) will instead be "short and brutal" due to very warm temperatures which even hit 15C at night in May.
Riksgransen, famous for offering skiing under the midnight sun through to midsummer (21st June) hasn't made it this season. There was only off piste terrain open at the top of the slopes with less than 50cm of snow cover at the end of May and in the end they decided to call it a day on their 2018 season on the last Sunday of last month.
North America
There are four ski areas open in the US and none in Canada as we enter June.
Squaw Valley ended its season on the last Monday of May leaving Mammoth the only area still open in California. It has recently said it is extending its season to June 17th. In Oregon Mt
Bach
elor has also closed, leaving
Timberline
the only resort open there. In Colorado, Arapahoe Bain will be open at least the first weekend of June and on the East Coast.
The only summer-only ski area in the US, Beartooth Basin (formerly Red Lodge Summer Camp) located on the border of Montana and Wyoming, had aimed to open for the Memorial Day long holiday weekend in the US at the end of may but has delayed a week to open June 2nd as there's so much snow to dig out from the lifts, they say.
North of the border,
Whistler Blackcomb
is due to re-open for summer glacier skiing from 9 June.
Asia
Japan's Gassan ski area is open through June. It's another that only opens in the late spring and early summer once access roads have been cleared and lifts dug out.
SOUTHERN HEMISPHERE
Australia
The Australian ski season will begin at almost all of the country's ski areas on 9th June, although
Perisher
will open a day earlier on the 8th. Ski areas traditionally open for the ski season that weekend, whether there's any snow or not, as it's a long weekend to celebrate the Queen's birthday. This year things are looking fairly good. There were some big snowfalls in mid-May which brought up to 50cm of fresh snow, although much of that subsequently melted away. Two of the country's ski areas do have all weather snow-making (Mt Baw Baw and Mount Buller) so they should be able to open at least some terrain, whatever the weather, either on the 9th/10th or possibly sooner.
New Zealand
The build up to the start of New Zealand's ski season has been mostly good so far with a cold and snowy end to May building bases up to the half metre mark (90cm reported in one case) at the areas set to open first in the country.
The main opening is from Friday 8th June (Mt Hutt) and Saturday 9th (
Cardrona
and The Remarkables) with Coronet Peak and
Turoa
set to join the party a week later on the 16th. However there has been so much snow that Cardrona and Coronet Peak have decided to open for 'preview weekends' on 2-3 June (Coronet Peak on Saturday 2nd only). But they were then pipped by the small Manganui Ski Area run by the Stratford Mountain Club on the North Island which opened on May 31st – believed to be the first in the southern hemisphere to begin 2018 operations.
In addition, the Happy Valley snow play area at Mt Ruapehu will also be open on the 2nd as it has all weather snowmaking to cover a small snow fun area of slopes whatever the weather. So these three areas look set to be first in southern hemisphere to open for winter 2018.
South America
Most ski areas in South America don't schedule their ski season starts until mid-June, so a week after Australia and several in New Zealand, but it's equally common for resorts in Argentina or Chile to open early for the season if there's a good pre-season snow dump. And that's exactly what has happened at many areas (the snowfall part at least) in the last few days of May with Argentina's Las Lenas being one posting very snowy images.
Virtually all of Argentina and Chile's ski areas currently have Saturday, June 16th as their projected opening day.
Southern Africa
Both Afriski at Lesotho and Tiffindell in South Africa expect to open in the first week of June. Both are often reliant on snowmaking to do so but here too there has been snow in May, most recently a good snowfall on May 29-30, raising hopes for a snowy winter.