The week ahead
Hello again,
This week in Europe, the waiting is (nearly) over with heavy snow expected... whilst America suffers an East/West split in fortunes.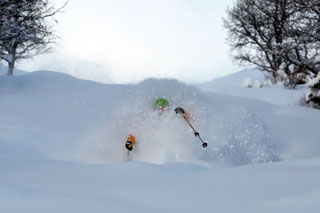 Powder at Lake Louise - courtesy LL Tourist Office
This Week's Snow Headlines
- Revelstoke reports 3m/10 feet of pre-season snowfall so far.
- (Potentially) huge snowfalls for the Alps forecast.
- More Western Canadian and US resorts open early.
- Val Thorens delays opening due to fears that heavy snow forecast may disrupt opening.
- Eastern US resorts delay opening.
- Obergurgl fully open for season with 60km of runs available (biggest in Europe at present).
- More snow forecast for Scotland in coming week.
- First good snowfall of autumn for parts of Scandinavia.
An exciting week for snowfall across the northern hemisphere (hence our longer list of headlines than usual!) with Western North American areas continuing to get dumped on and more and more announcing early openings as a result and at the same time big snowfalls forecast for the Alps over the coming weekend.
The probable snow in the Alps is of course causing the most excitement and reports of a likely 20cm fall at the start of Monday had grown to excited "up to 2m probable" by the end of the day. The exact extent of the snowfall, which is scheduled to start on Friday and continue through the weekend will be known by Monday. Some forecasters are saying the snow will be 'at altitude' but temperatures are expected to drop to double digits below, which should be good news for top to bottom coverage and for resorts to kick off snowmaking too. With the start of the season only weeks away nerves at the dry, warm November weather to date were beginning to get stretched.
Elsewhere in Europe Scotland has had more snow at altitude and that's expected to accelerate in the size of falls over the coming weekend too, whilst in Scandinavia Norwegian resorts have had a decent snowfall on Monday/Tuesday this week, transforming conditions for the better.
But the 'El Nino Effect' that is credited with all the early snow in western North America isn't helping the rest of the continent and Eastern US ski areas are in a battle to open in time for Thanksgiving, desperately posting pictures of snowmaking underway on green grass slopes since temperatures dropped in the past 48 hours. Stowe has announced it has to delay its planned opening this weekend.
In The Forecast
The Alps are about to experience a dramatic change in weather, that will leave no doubt as to the arrival of winter! Plunging temperatures and heavy snow are expected across much of the region, with a number of ski areas likely to see accumulations of one metre or more over this weekend.
There's more discussion in our Forum here - The incoming Snow.
More Snowy News
There is much more detail of the snow around the world in the full version of J2Ski Weekly Snow Report - November 19th 2015 online.
Until next week,
The j2Ski Team

Please forward this email to anyone who might be interested - thank you!
Your Personal Snow Report Follows
Significant Fresh Snow is forecast for 98 Swiss Ski Resorts, including Gstaad Mountain Rides, Nendaz, Saas-Fee, Verbier and Zermatt.
Open ski areas include 5 Swiss Ski Resorts.