Ski in Disentis Sedrun
Ski Resorts near Disentis Sedrun
Disentis Sedrun Ski Hire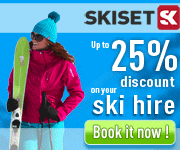 Save up to 45% on Ski Hire in Disentis Sedrun
Disentis Sedrun Snow Report
Search for Ski Chalets and Apartments in Disentis Sedrun
Disentis Sedrun Ski Accommodation
Search Hotels near Disentis Sedrun
Airport Transfers to Disentis Sedrun
Airports near Disentis Sedrun
Skiing at Disentis Sedrun
Disentis Sedrun Opinions

Disentis Sedrun - Ski Resort and Snow Summary
Skiing in Disentis Sedrun
Disentis Sedrun - Ski Resort in Swiss Alps - 168km of Piste (1150m to 2850m)
Typically picturesque Swiss village in the Rhine Valley, dominated by its twin towered Benedictine abbey. The vertical drop is world class, allowing for very long trails. Resort facilities are equally impressive with sports centre.
Disentis Sedrun
Sponsored Links
Disentis Sedrun Ski Facts
Disentis Sedrun Ski Facts
Expert Skiers
Intermediate Skiers
Beginners
Snowboarding
Snow
Apres-Ski
4
Black Pistes (20km)
8
Red Pistes (30km)
3
Blue Pistes (10km)
168km
Downhill Pistes
34km
Cross Country Pistes
10
Ski Lifts
1700m
Max Vertical
2850m
Highest Lift
1150m
Lowest Piste
1150m
Resort Altitude
Disentis Sedrun
The Swiss ski resort of Disentis Sedrun has direct access to 168km of downhill skiing, with 18 individual pistes, served by 10 ski lifts.
With pistes above 2500 metres, skiing and snowboarding is assured throughout the season.
Ski Lift Capacity :- The 10 Ski Lifts of Disentis Sedrun are able to uplift 12,600 skiers / snowboarders per hour.
There is an airport within two hours drive, so ski weekends, snowboard breaks and short ski holidays to Disentis Sedrun are perfectly feasible.
Skiing in Disentis Sedrun
Disentis Sedrun offers good sking, particularly, for Intermediate and Beginner skiers.
Snowboarding in Disentis Sedrun
Disentis Sedrun offers some good boarding and there is a Snow Park.
Disentis Sedrun Snow Reports by e-mail
For a Free 7-Day Snow Forecast for Disentis Sedrun, including a Snow Report with current skiing conditions, just sign-up to our Ski Chat Forum and set Disentis Sedrun as a favourite ski resort in your Profile.
Disentis Sedrun in brief
Disentis Sedrun Ski Resort is:
Ok for Expert Skiers.
Ok for Intermediate Skiers.
Good for Beginners.
Good for Snowboarding.
Opened : December 8, 2012
Closed : April 21, 2013
Opening Subject To Snow Conditions.

Disentis Sedrun Snow Forecast
Snow Forecast for Disentis Sedrun
Disentis Sedrun Piste Map
Full Page Piste Map of Disentis Sedrun
Map of Disentis Sedrun
Full Page Map of Disentis Sedrun
See More from Disentis Sedrun and Ski Resorts in Switzerland