Ski in Limone Piemonte
Ski Resorts near Limone Piemonte
Limone Piemonte Ski Hire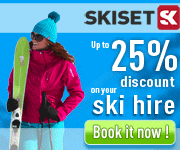 Save up to 45% on Ski Hire in Limone Piemonte
Limone Piemonte Snow Report
Search for Ski Chalets and Apartments in Limone Piemonte
Limone Piemonte Ski Accommodation
Search Hotels near Limone Piemonte
Airport Transfers to Limone Piemonte
Airports near Limone Piemonte
Skiing at Limone Piemonte
Limone Piemonte Opinions
You can discuss skiing and snowboarding in Limone Piemonte in our Italy Ski Forum.

Limone Piemonte - Ski Resort and Snow Summary
Skiing in Limone Piemonte
Limone Piemonte - Ski Resort in Italian Alps - 90km of Piste (1030m to 2050m)
Limone is one of Italy's oldest Alpine ski areas, having welcomed skiers from the earliest days of the sport. It is a very picturesque old village centred around its twelfth-century church and other old buildings. Located a few kilometres from the French border it is equidistant from Nice and Turin. Only an hour's drive from the sea, the whole area has a very Mediterranean/'Real Italy' feel, with narrow cobbled streets, usually lively nightlife and gourmet food available. The ski area is very extensive, although the altitude latitude mix can make snow cover unpredictable at the season's ends. Over the past decade there's been a huge investment in new lifts with almost all of the 20 or so former drag lifts replaced by high capacity chairlifts and a fast modern gondola.
Limone Piemonte
Sponsored Links
Limone Piemonte Ski Facts
Limone Piemonte Ski Facts
Intermediate Skiers
Snowboarding
Snow
Apres-Ski
6
Black Pistes (11km)
23
Red Pistes (57km)
8
Blue Pistes (12km)
90km
Downhill Pistes
9km
Cross Country Pistes
29
Ski Lifts
1050m
Max Vertical
2050m
Highest Lift
1030m
Lowest Piste
1000m
Resort Altitude
Limone Piemonte
The Italian ski resort of Limone Piemonte has direct access to 90km of downhill skiing, with 46 individual pistes, served by 29 ski lifts.
With skiing above 2000 metres, snow cover is generally reliable.
Snowmaking :- Limone Piemonte is able to augment natural snow, on 13km of ski runs, with 32 Snow Cannons.
Ski Lift Capacity :- The 29 Ski Lifts of Limone Piemonte are able to uplift 22,000 skiers / snowboarders per hour.
There are four Airports within two hours drive, so ski weekends, snowboard breaks and short ski holidays to Limone Piemonte are perfectly feasible. Turin Cuneo Airport is just one hours drive away, in good driving conditions, so you can be on the piste quickly.
Skiing in Limone Piemonte
Limone Piemonte offers good sking, particularly, for Intermediate skiers.
Snowboarding in Limone Piemonte
Limone Piemonte offers some good boarding.
Limone Piemonte Snow Reports by e-mail
For a Free 7-Day Snow Forecast for Limone Piemonte, including a Snow Report with current skiing conditions, just sign-up to our Ski Chat Forum and set Limone Piemonte as a favourite ski resort in your Profile.
Limone Piemonte in brief
Limone Piemonte Ski Resort is:
Ok for Expert Skiers.
Very good for Intermediate Skiers.
Ok for Beginners.
Ok for Snowboarding.
Opened : December 1, 2012
Closed : April 7, 2013
Opening Subject To Snow Conditions.

Limone Piemonte Snow Forecast
Snow Forecast for Limone Piemonte
Map of Limone Piemonte
Full Page Map of Limone Piemonte
See More from Limone Piemonte and Ski Resorts in Italy