Ski in Canazei di Fassa
Ski Resorts near Canazei di Fassa
Canazei di Fassa Ski Hire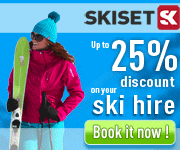 Save up to 45% on Ski Hire in Canazei di Fassa
Canazei di Fassa Snow Report
Search for Ski Chalets and Apartments in Canazei di Fassa
Canazei di Fassa Ski Accommodation
Search Hotels near Canazei di Fassa
Airport Transfers to Canazei di Fassa
Airports near Canazei di Fassa
Skiing at Canazei di Fassa
Canazei di Fassa Opinions
You can discuss skiing and snowboarding in Canazei di Fassa in our Italy Ski Forum.

Canazei di Fassa - Ski Resort and Snow Summary
Skiing in Canazei di Fassa
Canazei di Fassa - Ski Resort in Italian Dolomites (1450m to 2640m)
Located in the Fassa Valley and on the Sella Ronda circuit, which takes in Alta Badia and Val Gardena regions. Canazei is a very attractive, lively roadside village set below well forested slopes.
Canazei di Fassa
Sponsored Links
Canazei di Fassa Ski Facts
Canazei di Fassa Ski Facts
Intermediate Skiers
Beginners
Snowboarding
Snow
Apres-Ski
10
Red Pistes (19km)
4
Blue Pistes
20km
Cross Country Pistes
13
Ski Lifts
1190m
Max Vertical
2640m
Highest Lift
1460m
Resort Altitude
1450m
Lowest Piste
Canazei di Fassa
The Italian ski resort of Canazei di Fassa has direct access to 18 individual pistes, served by 13 ski lifts.
With pistes above 2500 metres, skiing and snowboarding is assured throughout the season.
Snowmaking :- Canazei di Fassa is able to augment natural snow, on 37km of ski runs, with 200 Snow Cannons.
Ski Lift Capacity :- The 13 Ski Lifts of Canazei di Fassa are able to uplift 19,927 skiers / snowboarders per hour.
There are two Airports within two hours drive, so ski weekends, snowboard breaks and short ski holidays to Canazei di Fassa are perfectly feasible.
Skiing in Canazei di Fassa
The Fassa Valley's skiing truly does have something for everyone with a wide choice of friendly, intimate ski areas for all standards. All have excellent snowmaking cover and most have modern lifts. For example the Catinaccio ski area above Vigo di Fassa had a new quad chair with bubble cover installed on the Pian Pecei-Pra Martin.
It does not always follow that the larger ski areas have access to the tougher skiing, as one of the smaller sections above Alba has a third of its 15 km graded black and one of the region's toughest runs, the 3 km long Pista Ciampac with a 658m vertical.
All of the ski areas are linked by free ski bus (also free for non skiers). From Canazei it is possible to reach the ski areas of Belvedere-Pordoi Pass, Ciampac and Fedaia-Marmolada, from Campitello the ski area of Col Rodella-Sella Pass, from Vigo and Pozza di Fassa the ski areas Catinaccio, Buffaure / Aloch famous for the night skiing and Carezza, finally Moena offers the ski area Tre Valli with its famous tour.
Canazei is the only major resort in the Fassa Valley truly located on the Sella Ronda circuit with access to Corvara, Colfosco and Arabba all very straight forward, even more so in recent years thanks to the replacement of old surface tows with modern fast chair-lifts plus the installation of comprehensive snow making.
Off piste routes are popular in the area, but you would be wise to go with a ski school class or employ a mountain guide for safety. The most famous off piste runs include Laste/Lusia, Sass Pordoi/Val Lasties, over at the Marmolada glacier and at Passo S. Pellegrino/Col Margherita.
Night skiing is available on the Pista Aloch ski stadium above Pozza di Fassa. It is open Tuesday, Wednesday, Friday and Saturday evenings from 20.30 - 23.00 hours and has a 2.7 km length.
The Fassa Valley and all surrounding ski areas are part of the giant Dolomiti Super-ski ticket remains the world's largest fully interchangeable lift pass covering around 1200 km of trails and some 500 lifts above more than 50 villages.
There is a local Fassa Valley only ski ticket which has a slightly lower cost.
Snowboarding in Canazei di Fassa
Snowboarders are welcome in the whole region and will enjoy the morn uplift provided to whisk them up the slopes. In terms of terrain parks there's a half pipe, boardercross and snowboard terrain park at Canazei, Belvedere; a second boardercross ski area at Col Rodella / Campitello and a new snowboard park at San Pellegrino.
Thanks to the Dolomiti Superski ticket it is possible to reach more terrain parks in Alta Badia and Val Gardena.
Canazei di Fassa Aprés Ski
Canazei is pretty lively with plenty of bars serving fairly priced food and drink. The Esso Bar is cool, small and intimate with a mix of locals and international guests.
Husky Pub in Canazei and the Speckheller are also both highlights. Other popular spots include the Montanara Bar, the Stua dei Ladins and the new apres - ski Paradis.
Evening alternatives include tubing, indoor ice-skating and a swimming pool complex with Turkish baths.
Canazei di Fassa Snow Reports by e-mail
For a Free 7-Day Snow Forecast for Canazei di Fassa, including a Snow Report with current skiing conditions, just sign-up to our Ski Chat Forum and set Canazei di Fassa as a favourite ski resort in your Profile.
Canazei di Fassa in brief
Canazei di Fassa Ski Resort is:
Ok for Expert Skiers.
Good for Intermediate Skiers.
Ok for Beginners.
Good for Snowboarding.
Opened : December 1, 2012
Closed : April 14, 2013
Opening Subject To Snow Conditions.

Canazei di Fassa Snow Forecast
Snow Forecast for Canazei di Fassa
Map of Canazei di Fassa
Full Page Map of Canazei di Fassa
See More from Canazei di Fassa and Ski Resorts in Italy