Ski in Vars
La Forêt Blanche Ski Resorts
Ski Resorts near Vars
Vars Ski Hire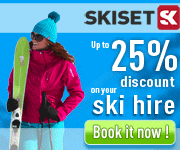 Save up to 45% on Ski Hire in Vars
Vars Snow Report
Search for Ski Chalets and Apartments in Vars
Search Hotels near Vars
Airport Transfers to Vars
Airports near Vars
Skiing at Vars
Vars Opinions

Vars - Ski Resort and Snow Summary
Skiing in Vars
Vars - Ski Resort in La Forêt Blanche, French Alps (1650m to 2750m)
Vars has been a predominantly domestic destination resort until recently, it shares the largest ski area in the Southern French Alps with neighbouring Risoul, and has the more interesting part. The main Vars station is made up of a mixture of concrete blocks and traditional chalet designs. There are many good restaurants and the nightlife can be very lively, especially at weekends.
Vars
Sponsored Links
Vars Ski Facts
Vars Ski Facts
Intermediate Skiers
Beginners
Snowboarding
Snow
Apres-Ski
7
Black Pistes
23
Red Pistes
24
Blue Pistes
9
Green Pistes
25km
Cross Country Pistes
33
Ski Lifts
1100m
Max Vertical
2750m
Highest Lift
1850m
Resort Altitude
1650m
Lowest Piste
Vars
The French ski resort of Vars is part of the La Forêt Blanche ski area with access to 108 individual pistes. In addition to the skiing in Vars itself 136pisted ski runs), the appropriate ski Lift Pass will allow you to ski or snowboard in the other La Forêt Blanche ski resort of Risoul.
The ski resort itself is above 1500m, so skiing or boarding back to the resort is usually possible. With pistes above 2500 metres, skiing and snowboarding is assured throughout the season.
Snowmaking :- Vars is able to augment natural snow, on 14km of ski runs, with 9 Snow Cannons.
Ski Lift Capacity :- The 33 Ski Lifts of Vars are able to uplift 51,000 skiers / snowboarders per hour.
There is an airport within two hours drive, so ski weekends, snowboard breaks and short ski holidays to Vars are perfectly feasible.
Skiing in Vars
This giant ski area has a good selection of runs for all ability levels. In Vars itself beginners have wide sunny nursery slopes at the edge of the village with dedicated beginner lifts. There's then the opportunity to progress further up the mountain returning on long easy greens and blues.
Intermediates will get the most pleasure from the Foret Blanche however, with long, fast 'motorway' pistes joining Risoul and Vars, some reaching a knee shattering eight kilometres (five miles) in length. There are rather more runs on the Vars side including some excellent swooping reds down to the villages.
Vars does have the tougher runs in the area, including a notorious mogul run down to the resort. There are about a dozen trails graded black in total, the thoughest is generally agreed to be Cuni. Freeriders will enjoy the powder bowls at the top of the ski area after a fresh fall.
The resort has a speed skiing course, open every day of the season, allowing users to reach up to 160 kilometres per hour (100 mph). Accessed via the Crévoux chair, the course has been designed by speed skiing professionals.
The resort also has a permanent parallel slalom course which is used for 'boarder cross races and offers regular shows and demonstrations from freestylers and 'boarders.
Snowboarding in Vars
There is an excellent snowboard park in the Foret Blanche beneath the De Cezier chair. This 'Surfland' has many attractions including some interesting kickers, rails and several quarter pipes. Pipe lovers will find two natural half pipes and a full size machine made pipe.
In the evenings, there are regular night-time snowboard jump competitions.
Vars Aprés Ski
Vars les Claux is a very French compact resort, comprising two small shopping parades, each with its own selection of shops, bars, restaurants, night club, skating and games hall. Bars are mostly hotel based but can get lively by French standards, especially at weekends when the crowds arrive from Provence.
There are more than 20 bars to choose from. For occasional live music in try the piano bar Le Gruate in the Hotel Les Escondus. Nightclubs open to the early hours include Le Lem, Le Lynx and Le Look.
Vars Snow Reports by e-mail
For a Free 7-Day Snow Forecast for Vars, including a Snow Report with current skiing conditions, just sign-up to our Ski Chat Forum and set Vars as a favourite ski resort in your Profile.
Vars in brief
Vars Ski Resort is:
Ok for Expert Skiers.
Ok for Intermediate Skiers.
Good for Beginners.
Good for Snowboarding.
Opened : December 22, 2012
Closed : April 15, 2013
Opening Subject To Snow Conditions.

Vars Snow Forecast
Snow Forecast for Vars
Map of Vars
Full Page Map of Vars
See More from Vars and Ski Resorts in France