Ski in Peisey-Vallandry
Paradiski Ski Resorts
Ski Resorts near Peisey-Vallandry
Peisey-Vallandry Ski Hire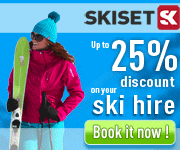 Save up to 45% on Ski Hire in Peisey-Vallandry
Peisey-Vallandry Snow Report
Search for Ski Chalets and Apartments in Peisey-Vallandry
Peisey-Vallandry Ski Accommodation
Search Hotels near Peisey-Vallandry
Airport Transfers to Peisey-Vallandry
Airports near Peisey-Vallandry
Skiing at Peisey-Vallandry
Peisey-Vallandry Opinions

Peisey-Vallandry - Ski Resort and Snow Summary
Skiing in Peisey-Vallandry
Peisey-Vallandry - Ski Resort in Paradiski, French Alps - 32km of Piste (1300m to 2300m)
Located at the heart of the 1992 Savoie Olympic Region, and at the entrance of the Vanoise National Park. Skiing began above this group of three small resorts 20 years before its internationally better known neighbour, Les Arcs, was constructed. The lifts of each now inter-link and more recently Peisey finds itself on the Les Arcs side of the spectacular Vonise Express cable car link to La Plagne and thus at the heart of the combined giant Paradiski area.
Peisey-Vallandry
Sponsored Links
Peisey-Vallandry Ski Facts
Peisey-Vallandry Ski Facts
Intermediate Skiers
Snowboarding
Snow
Apres-Ski
19
Black Pistes (43km)
32
Red Pistes (62km)
54
Blue Pistes
1
Green Piste
32km
Downhill Pistes
41km
Cross Country Pistes
14
Ski Lifts
1000m
Max Vertical
2300m
Highest Lift
1600m
Resort Altitude
1300m
Lowest Piste
Peisey-Vallandry
The French ski resort of Peisey-Vallandry is part of the Paradiski area with access to 425km of downhill skiing, with 475 individual pistes, served by 141 ski lifts. In addition to the skiing in Peisey-Vallandry itself (32km of pisted ski runs), the appropriate ski Lift Pass will allow you to ski or snowboard in the other Paradiski ski resorts of La Plagne, Les Arcs and Montchavin-Les Coches.
The ski resort itself is above 1500m, so skiing or boarding back to the resort is usually possible. With skiing above 2000 metres, snow cover is generally reliable.
Snowmaking :- Peisey-Vallandry is able to augment natural snow, on 45km of ski runs, with 250 Snow Cannons.
Ski Lift Capacity :- The 14 Ski Lifts of Peisey-Vallandry are able to uplift 14,033 skiers / snowboarders per hour.
There are two Airports within two hours drive, so ski weekends, snowboard breaks and short ski holidays to Peisey-Vallandry are perfectly feasible.
Skiing in Peisey-Vallandry
Peisey-Vallandry is actually better placed than most of the Les Arcs stations to make the most of the whole Les Arcs (and La Plagne) ski areas with their 420km (260 miles) of runs. Arc 1950 and Arc 2000 are just over the back of the mountain from the two area, La Plagne across the valley and Arcs 1600 and 1800 along side - so Peisey-Vallandry is now, in fact, the hub of the whole Paradiski area. Most of the local runs are blues and reds, including the lovely long cruiser Aigle from the top of L'Ours chair all the way back to resort.
Experts may have to go a little further to keep them happy but the legendary 7km (4.5) mile long black from the top of the Aiguille Rouge down to Villaroger is worth the effort, one of the world's longest blacks it covers the world's biggest vertical for a run of this grading, a full 2000 metres. There are plenty of other challenges including mogul runs like the Dou d'Homme.
Despite the homely nature of Peisey-Vallandry, the off piste and high mountain skiing opportunities are vast when you consider the full range of options at Les Arcs and la Plagne, plus ease of access to other famous ski areas nearby. The Bureau des Guides is the place to go for advice and a range of tours, plus heliskiing over the border in Italy (heliskiing is illegal in France). One route you might like to try, given the lack of a marked piste to accompany the new lift between La Plagne and Les Arcs is the increasingly frequented off-piste route between the two giant areas, a great excursion returning via the Nancroix forest.
Snowboarding in Peisey-Vallandry
The Peisey - Les Arcs area claims to be the home of snowboarding and certainly some people were sliding around on the slopes here on something very similar to a snowboard a few years before Jake Burton hit the headlines in the early '80s. Some of the famous 'Apocalypse Snow' movies that first popularised the sport were initiated here.
The area is very 'boarder friendly with a combination of value accommodation, great terrain for all styles and abilities and as many chairs and gondolas as surface lifts (rare for a French resort). The terrain park Appacalypse above Arc 1600, which is also open to skiers, has a wide variety of features including diverse humps and mounds which making it an attractive and interesting site where everyone can find something to suit their taste and level. There are also tables, hips, a funbox, a pyramid, big and small gaps.
Peisey-Vallandry Aprés Ski
Given the spread of these small villages and under exposure to loud northern Europeans, this is not the place to go for an action packed nightlife. However there are a few choices depending on where you are based. La Taverne du Relais in Peisey Village is a good bar with pool table. On the mountain Le Jimmy's Bar is the best place for après-ski in Vallandry. Most of the other options are within restaurants.
Peisey-Vallandry Snow Reports by e-mail
For a Free 7-Day Snow Forecast for Peisey-Vallandry, including a Snow Report with current skiing conditions, just sign-up to our Ski Chat Forum and set Peisey-Vallandry as a favourite ski resort in your Profile.
Ski Schools and Snowboard Training - Peisey-Vallandry

Award Winning Ski School. High quality lessons in English.
Peisey-Vallandry in brief
Peisey-Vallandry Ski Resort is:
Ok for Expert Skiers.
Excellent for Intermediate Skiers.
Ok for Beginners.
Excellent for Snowboarding.
Opened : December 15, 2012
Closed : April 27, 2013
Opening Subject To Snow Conditions.

Peisey-Vallandry Snow Forecast
Snow Forecast for Peisey-Vallandry
Map of Peisey-Vallandry
Full Page Map of Peisey-Vallandry
See More from Peisey-Vallandry and Ski Resorts in France