Ski in Scheffau am Wilden Kaiser
SkiWelt Ski Resorts
Ski Resorts near Scheffau am Wilden Kaiser
Scheffau am Wilden Kaiser Ski Hire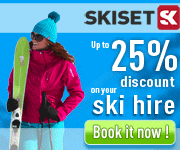 Save up to 45% on Ski Hire in Scheffau am Wilden Kaiser
Scheffau am Wilden Kaiser Snow Report
Search for Ski Chalets and Apartments in Scheffau am Wilden Kaiser
Scheffau am Wilden Kaiser Ski Accommodation
Search Hotels near Scheffau am Wilden Kaiser
Airport Transfers to Scheffau am Wilden Kaiser
Scheffau am Wilden Kaiser Transfers
Airports near Scheffau am Wilden Kaiser
Skiing at Scheffau am Wilden Kaiser
Scheffau am Wilden Kaiser Opinions

Scheffau am Wilden Kaiser - Ski Resort and Snow Summary
Skiing in Scheffau am Wilden Kaiser
Scheffau am Wilden Kaiser - Ski Resort in SkiWelt, Austrian Alps - 40km of Piste (750m to 1830m)
A key resort in the Ski Welt, Austria's largest inter-connected ski area, Scheffau is located between Ellmau and Söll. It is smaller than its two neighbours but is otherwise similar, with traditional Tyrolean chalet-style buildings clustered around the white washed church with its sharp spire.
Scheffau am Wilden Kaiser
Sponsored Links
Scheffau am Wilden Kaiser Ski Facts
Scheffau am Wilden Kaiser Ski Facts
Expert Skiers
Intermediate Skiers
Beginners
Snowboarding
Snow
Apres-Ski
6
Black Pistes (27km)
53
Red Pistes (132km)
64
Blue Pistes (120km)
1
Green Piste (55km)
40km
Downhill Pistes
180km
Cross Country Pistes
15
Ski Lifts
1080m
Max Vertical
1830m
Highest Lift
750m
Lowest Piste
750m
Resort Altitude
Scheffau am Wilden Kaiser
The Austrian ski resort of Scheffau am Wilden Kaiser is part of the SkiWelt area with access to 618 individual pistes. In addition to the skiing in Scheffau am Wilden Kaiser itself (40km of pisted ski runs), the appropriate ski Lift Pass will allow you to ski or snowboard in the other SkiWelt ski resorts of Brixen im Thale, Ellmau, Going am Wilden Kaiser, Hopfgarten im Brixental, Itter / Muhtal, Söll and Westendorf.
Snowmaking :- Scheffau am Wilden Kaiser is able to augment natural snow, on 210km of ski runs, with 1000 Snow Cannons.
Ski Lift Capacity :- The 15 Ski Lifts of Scheffau am Wilden Kaiser are able to uplift 135,100 skiers / snowboarders per hour.
There are three Airports within two hours drive, so ski weekends, snowboard breaks and short ski holidays to Scheffau am Wilden Kaiser are perfectly feasible. Innsbruck Airport and Munich Airport are just one hours drive away, in good driving conditions, so you can be on the piste quickly.
Skiing in Scheffau am Wilden Kaiser
Scheffau is well placed at the heart of the largest lift-linked ski area in Austria, the Ski Welt, which also holds the title of having the most artificial snow covering in the country, when needed, covering more than 120km (75 miles) of trails. That being said those who are concerned by the low altitude range of the ski welt by modern standards maybe reassured to know that Scheffau's local slopes in the north-facing Brandstadl snowbowl have the best reputation of all those on the pass. Add to that surety the fact that Scheffau is part of the huge Kitzbüheler Alpen Ski Pass, an alliance of dozens of ski areas offering a combined total of 260 lifts, and you have almost unlimited skiing opportunities.
There is one beginners drag lift on the Übungwiese at the edge of the village, otherwise skiers need to cross the main valley road and the little Weißache river to reach the base of the lifts that link up with the main Ski Welt circuit. There is a further snowsure altitude beginners area at the top of the village gondola. The lifts are located about a kilometre (a free bus service is available) from the village centre and there's a gondola to get up the mountain.
Intermediates will enjoy Scheffau's skiing and the Ski Welt beyond, accessed the most speedily by using the gondola to the top of the local Brandstadl mountain. From here the Eiberg chair accesses a long run down to Aualm. Another good choice is the family run from the top of the Neualm gondola.
The villages of Söll and Ellmau on either side of the resort can be reached by lift and piste, as can Going, Itter, Hopfgarten and Brixen slightly further afield. A circuit which links together more than 20 category red runs is available on request from ticket and tourist offices.
Experts have eight blacks on the circuit to enjoy, one of the best from the top of the Höhe Salve above neighbouring Söll down through the Leukenwald. The local Moderer run is particularly challenging, especially when it hasn't been bashed and a mogul field is allowed to develop.
Snowboarding in Scheffau am Wilden Kaiser
The Ski Welt has a 'boarder-friendly attitude as well as some useful terrain. There are terrain parks in Ellmau (complete with kicker, rails for sliding and a ground loop), Westendorf and Soll.
Scheffau am Wilden Kaiser Aprés Ski
Scheffau's nightlife is generally described with words like 'friendly'. 'relaxed', 'low key' or just plain 'quiet'. It is centred on hotel bars and as this is a compact resort with limited guest facilities there is not enough business to generate a string of hedonictic havens - thankfully as far as most visitors are concerned. The Walthofbahn and the Stern Bar are two favourite après ski haunts however.
Scheffau am Wilden Kaiser Snow Reports by e-mail
For a Free 7-Day Snow Forecast for Scheffau am Wilden Kaiser, including a Snow Report with current skiing conditions, just sign-up to our Ski Chat Forum and set Scheffau am Wilden Kaiser as a favourite ski resort in your Profile.
Scheffau am Wilden Kaiser in brief
Scheffau am Wilden Kaiser Ski Resort is:
Good for Expert Skiers.
Very good for Intermediate Skiers.
Good for Beginners.
Good for Snowboarding.
Opened : December 8, 2012
Closed : April 7, 2013
Opening Subject To Snow Conditions.

Scheffau am Wilden Kaiser Snow Forecast
Snow Forecast for Scheffau am Wilden Kaiser
Scheffau am Wilden Kaiser Piste Map
Full Page Piste Map of Scheffau am Wilden Kaiser
Map of Scheffau am Wilden Kaiser
Full Page Map of Scheffau am Wilden Kaiser
See More from Scheffau am Wilden Kaiser and Ski Resorts in Austria