Ski Holidays to Montjola - St. Anton am Arlberg, Austria
Search for Ski and Snowboard Holidays to St. Anton am Arlberg
St. Anton am Arlberg Ski Holidays
Ski Holidays in Arlberg Ski Resorts
Ski Holidays in Ski Resorts near St. Anton am Arlberg
St. Anton am Arlberg Ski Hire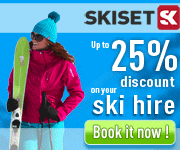 Save up to 45% on Ski Hire in St. Anton am Arlberg
St. Anton am Arlberg Snow Report
Ski St. Anton am Arlberg
For details of Winter Sports in St. Anton am Arlberg, see also :-
Austrian Ski Resorts
Find out more about Skiing and Snowboarding in Austria
Adverts
Ski Holidays to Montjola, St. Anton am Arlberg, Austria

Montjola, St. Anton am Arlberg
Luxury Catered Hotel in St. Anton am Arlberg, Austria
In St. Anton am Arlberg
10m from Ski Bus Stop
Catered
Flights from UK

provided by
020 8544 6354
See below for current Ski Holiday Package Availability
Montjola, St. Anton am Arlberg
Luxury Catered Hotel in St. Anton am Arlberg, Austria
600m from Ski Slopes - 10m from Ski Bus
Special Offers :- Save £190 per person
Sleeps up to 80, from £899 per person. Save up to £190.
Prices Include :- Flights from Gatwick.
Prices are per person. and are on a Catered basis.
Hotel Montjola is in a quiet wooded location overlooking the resort and a short walk (5 minutes downhill, double it for the walk back!) from the piste, ski lifts and high street. Shuttle service will whisk you to and from the piste daily between 8am and 8pm for those in ski boots or weary after a hard day on the hill.
Montjola is in the Austrian ski resort of St. Anton am Arlberg.
Accommodation Facilities
Travel and Transport
Last Minute and Late Ski Deals to Montjola, St. Anton am Arlberg
For more Flight and Date Availability to Montjola, including two week ski holidays and flights from alternative Airports, please see the calendars below.
Book Now
call
020 8544 6354
Questions?
Ask an Expert...
020 8544 6354

Book Your Ski Holiday Now - call 020 8544 6354
Ski Holidays to Montjola, St. Anton am Arlberg - 2013/2014 Ski Holiday Availability
To check availability - click a Date and Price. Telephone confirmation may be needed.
Ski Holidays including Flights, flying from Gatwick to Friedrichshafen
Ski Holiday availability and price is subject to change until booked.