Ski Holidays to Chalet Loori - St. Anton am Arlberg, Austria
Search for Ski and Snowboard Holidays to St. Anton am Arlberg
St. Anton am Arlberg Ski Holidays
Ski Holidays in Arlberg Ski Resorts
Ski Holidays in Ski Resorts near St. Anton am Arlberg
St. Anton am Arlberg Ski Hire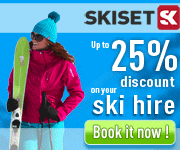 Save up to 45% on Ski Hire in St. Anton am Arlberg
St. Anton am Arlberg Snow Report
Ski St. Anton am Arlberg
For details of Winter Sports in St. Anton am Arlberg, see also :-
Austrian Ski Resorts
Find out more about Skiing and Snowboarding in Austria
Adverts
Ski Holidays to Chalet Loori, St. Anton am Arlberg, Austria

Chalet Loori, St. Anton am Arlberg
Luxury Ski Chalet in St. Anton am Arlberg, Austria
In St. Anton am Arlberg
Half Board
Flights from UK

provided by
020 7471 7768
See below for current Ski Holiday Package Availability
Chalet Loori, St. Anton am Arlberg
Luxury Ski Chalet in St. Anton am Arlberg, Austria
2km from Ski Slopes
Sleeps up to 16, from £519 per person.
This superb and very well appointed chalet is in the Oberdorf area of St Anton.
Chalet Loori is in the Austrian ski resort of St. Anton am Arlberg.
What's Included?
Prices Include :- Flights from Gatwick.
Prices are per person. and are on a Half Board basis.
Last Minute and Late Ski Deals to Chalet Loori, St. Anton am Arlberg
For more Flight and Date Availability to Chalet Loori, including two week ski holidays and flights from alternative Airports, please see the calendars below.
Book Now
call
020 7471 7768
Questions?
Ask an Expert...
020 7471 7768

Book Your Ski Holiday Now - call 020 7471 7768
Ski Holidays to Chalet Loori, St. Anton am Arlberg - 2013/2014 Ski Holiday Availability
To check availability - click a Date and Price. Telephone confirmation may be needed.
Ski Holidays including Flights, flying from Gatwick to Innsbruck Airport
Ski Holiday availability and price is subject to change until booked.