Ski Holidays to Apart-hotel Strass - Mayrhofen, Austria
Mayrhofen Ski Hire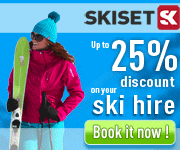 Save up to 45% on Ski Hire in Mayrhofen
Mayrhofen Snow Report
Ski Mayrhofen
For details of Winter Sports in Mayrhofen, see also :-
Austrian Ski Resorts
Find out more about Skiing and Snowboarding in Austria
Adverts
Ski Holidays to Apart-hotel Strass, Mayrhofen, Austria

Apart-hotel Strass, Mayrhofen
Luxury Hotel in Mayrhofen, Austria
In Mayrhofen
200m from Ski Slopes
We do not currently have any Ski Holiday Package Availability for Apart-hotel Strass.
Apart-hotel Strass, Mayrhofen
Luxury Hotel in Mayrhofen, Austria
200m from Ski Slopes
The Apart-Hotel Strass, also belonging to the Roscher family, is centrally located close to the Penken gondola and offers comfortable, 4 star accommodation. The Apart-Hotel is interconnected with the Sporthotel Strass where guests have breakfast and dinner and also have free use of the indoor swimming pool and sauna.
Apart-hotel Strass is in the Austrian ski resort of Mayrhofen.
What's Included?

Book Your Ski Holiday Now - call 020 8544 6354