Ski Chalets and Apartments in United States
Ski Chalets in American Ski Resorts :- Winter Park
Florida Ski Chalets and Apartments
See all Ski Chalets and Apartments in Winter Park, United States
The comfortable accommodations Fraser Crossing & Founders Pointe lie side by side in the centre of the resort Winter Park Resort, only approx. 200 m from the ski lifts and shopping facilities. The modern accommodations' facilities include a recep...
Choice of 2 Apartments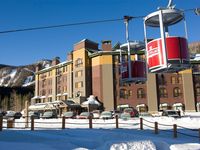 The Vintage Resort Hotel was partly renovated in 2012 and is located only approx. 550 m from Winter Park Resort and provides a phenomenal view of the majestic Rocky Mountains. The gondola "Village Cabriolet" transports you directly from the car park ...
Choice of 3 Apartments