Apartment in Haus Saskia, Sölden
Search for Ski Chalets and Apartments in Solden
Ski Accommodation in Ski Resorts near Sölden
Sölden Ski Hire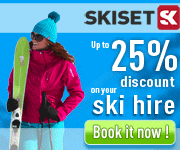 Save up to 45% on Ski Hire in Sölden
Sölden Snow Report
Ski Chalets and Apartments by Country
Airport Transfers to Sölden
Austrian Ski Resorts
Find out more about Skiing and Snowboarding in Austria
Adverts
Apartment, sleeps 2 - 3383, Sölden, Austria : Haus Saskia
Apartment, sleeps 2 - 3383, Sölden
Ski Apartment in Haus Saskia
Ski Apartment in Haus Saskia
Sleeps up to 2
Haus Saskia is in the Austrian ski resort of Sölden.
We do not currently have any Accommodation Only Availability for Apartment, sleeps 2 - 3383.
Accommodation Facilities
Room Features
This Ski Apartment is part of Haus Saskia.
Map of Ski Chalets and Apartments in Sölden
NOTE: Locations provided to us are not always precise; please check Accommodation Location when booking!
Apartment, sleeps 2 - Features
•Eat-in kitchen with microwave with baking function, cable TV
•Double room
•Balcony
See More from Sölden and Ski Resorts in Austria